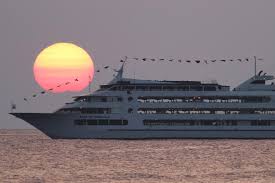 Ensenada, affectionately known as Baja's "Love Boat" port, is located just a few hours from Sahuaro Shores.
No longer a sleepy resort town, some 4.5 million visitors descend annually on this seaside city just 68 miles from the U.S. border. That's quite a change from 1542 when a Portuguese explorer Juan Rodriguez Cabrillo sailed into the sheltered bay in his quest for the mythical Northwest Passage, or sixty years later, when Sebastian Vizcaino named the area Ensenada de Todos los Santos in commemoration of All Saints' Day.
Over the centuries, many have left their mark here, from Spanish missionaries and Russian settlers to gold miners and gamblers.
Ensenada is now Mexico's second busiest port and hosts such cruise lines as Carnival and Disney. From Ensenada you can cruise to exciting ports-of-call in Mexico like Cabo San Lucas, Mazatlán, Acapulco and Puerto Vallarta. Additionally, you can connect to U.S. seaports including San Diego and Long Beach, where you can sail north to Alaska or west to Hawaii.