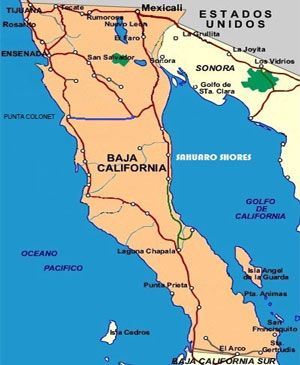 Sahuaro Shores is located along an expanding coastal highway system connecting the more developed areas in northern Baja to the mostly under-developed beach communities along the Sea of Cortez, including Puerticitos, Gonzaga Bay and Bahia de Los Angeles. When fully completed, this scenic coastal highway will allow easy transit between this "gateway" region to well-known resort areas in Baja Sur like Mulegé, Loreto Bay, La Paz, Todo Santos and Cabo San Lucas.
Tremendous opportunities for well-planned residential and commercial development of these coastal areas have attracted the attention of prominent groups and individuals who have announced ambitious plans to invest in and around Sahuaro Shores. Included in this group of world-class dignitaries is oil & gas magnate Manuel Jove, a billionaire industrialist from Spain who is developing the $500M USD Marinazul Golf & Marina Resort adjacent to Sahuaro Shores. This upscale 3,000 acre mixed-use eco-development will include an 18-hole golf course, two 100-slip marinas, hotels, shops and several thousand condominiums and single family residences.
Also announcing plans for targeted development in this "Gateway Corridor" along the Sea of Cortez are Vicente Fox, a former President of México, who has amassed land holdings in Bahia de Los Angeles, and Carlos Slim Helú, one of the wealthiest persons in the world. Committed to the development of his considerable regional land holdings in an ecologically-friendly manner, Slim has coordinated with the World Wildlife Fund to initiate a program of research and conservation designed to protect endangered marine species that live in the Sea of Cortez.
Sahuaro Shores, along with other neighboring communities in the Sea of Cortez gateway region, will together comprise the fastest growing assemblage of planned communities in Baja California and one of the largest development zones in all of México. Understandably, many local, state and federal government agencies recognize the importance of diverse economic growth to the region and are actively supporting the transition of these former fishing communities into world-class tourist destinations.